Conectivitate prin retele wireless - sisteme wireless pentru achizitia de date

Seria de module ADAM-2000Z are integrate functionalitati pentru comunicatii wireless, pentru managementul energiei si tehnologii de comunicatii pentru achizitia de date I/O. Cu ajutorul acestor module (au incorporate protocolul de comunicatie wireless IEEE 802.15.4) retelele pot fi usor configurate si extinse. Consumul redus de energie si ciclurile rare de functionare, fac posibil ca aceste module sa actioneze ca dispozitive de sine statatoare, oferind solutii economice de achizitie a datelor. Utilizand protocolul Modbus RTU, produsele din seria ADAM-2000 pot fi incluse in orice sistem SCADA sau in sisteme industriale impreuna cu alte produse Advantech, cum ar fi calculatoare industriale IPC, module de achizitie ADAM, module de comunicatie industriala EKI.

Retea de senzori wireless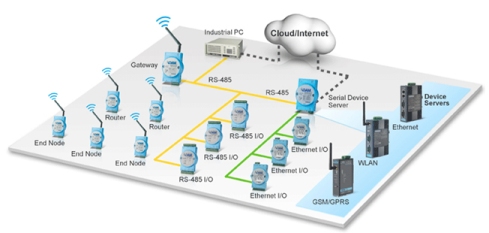 Datorita acestor module de achizitie a datelor la distanta, a echipamentelor pentru comunicatii industriale si a gamei complexe de platforme IPC, Advantech ofera solutii pentru multe aplicatii. Modulele wireless din seria ADAM-2000, ofera solutii complete pentru achizitia de date si faciliteaza extinderea cu usurinta a retelelor de achizitie de date.
| | | |
| --- | --- | --- |
| Cod comanda | Descriere | Detalii |
| ADAM-2031Z-AE | Temperature and Humidity Sensor Node | |
| ADAM-2051Z-AE | 8-ch Digital Input Node | |
| ADAM-2051PZ-AE | 8-ch Digital Input Node with Power Amplifier | |
| ADAM-2510Z-AE | Router Node | |
| ADAM-2520Z-AE | Modbus RTU Gateway | |
ROM DEVICES SRL este distribuitorul autorizat ADVANTECH in Romania.